ANNUAL REPORT SPOTLIGHT: Advocacy
ISSF's advocacy outreach is firmly rooted in facts – findings, studies and best practices often identified by our collaborative research. Backed by the latest tuna science and analyses, our efforts reach three oceans, four tuna RFMOs, many of the world's major food retailers and foodservice groups, MSC client fisheries, global tuna fishing fleets, regional organizations, national governments, and we collaborate with the world's leading ocean non-governmental organizations (NGOs).
And the impacts of our collaborative work are equally as broad — since tuna fisheries sustainability is complex and multifaceted, so too is our approach.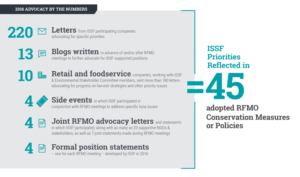 A Closer Look
How are Regional Fisheries Management Organization (RFMO) conservation measures or policies progressing in key tuna conservation categories identified by ISSF?
ISSF and its partners cooperate with and support RFMOs, and vigorously advocate to RFMO members, for the adoption and implementation of science-based management measures — so that tuna stocks and their ecosystem are managed comprehensively and sustainably.
Our advocacy priorities include:
Implementation of rigorous harvest strategies, including harvest control rules (HCRs) and reference points
Effective management of fleet capacity, including developing mechanisms that support developing coastal state engagement in the fishery
Science-based FAD management & non-entangling FAD designs
Increased member compliance with all measures adopted, and greater transparency of processes reviewing member compliance with measures
Strengthened Monitoring, Control and Surveillance (MCS) measures and increased observer coverage, including through modern technologies such as electronic monitoring and e-reporting (EM/ER)
Adoption of best-practice bycatch mitigation and shark conservation and management measures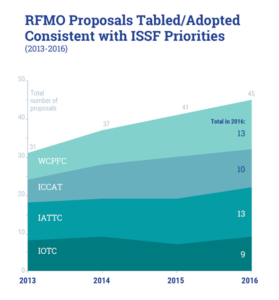 Read our annual report, Best Practices, Better Solutions, for a full recap of ISSF's advocacy efforts
About the International Seafood Sustainability Foundation (ISSF)
The International Seafood Sustainability Foundation (ISSF) is a global coalition of scientists, the tuna industry and World Wildlife Fund (WWF) — the world's leading conservation organization — promoting science-based initiatives for the long-term conservation and sustainable use of tuna stocks, reducing bycatch and promoting ecosystem health. To learn more, visit
https://iss-foundation.org/
.