IOTC Meeting Recap
Progress was made on fighting IUU through vessel listing, requiring sharks to be landed with fins naturally attached, and developing timelines for harvest strategy work. But there were missteps on protecting yellowfin tuna, prohibiting large-scale driftnets, and other issues.
Read our blog post on the mixed results from the May 22-26 annual IOTC meeting.
"Progress and Missteps for Indian Ocean Tuna Fisheries" Blog Post
Transparency in Practice
How are 28 tuna companies worldwide — representing about 75% of the canned tuna market — delivering on their sustainability commitments?
Just-published compliance reports examine these market leaders' conformance with our conservation measures — providing valuable transparency into their operations and sustainability outcomes.

Reports Show Improved Compliance
The compliance reports, downloadable from our site, are prepared by independent auditor MRAG Americas:
The reports show that ISSF participating companies achieved a 97.5% conformance rate with conservation measures, up from 87.2% in the previous reporting period. In addition, 22 of 28 companies were fully compliant across all 21 measures.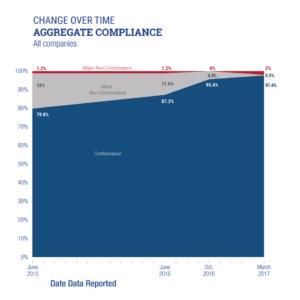 You also can review the ISSA Compliance Policy that our participating companies must follow, and peruse the audit protocol that MRAG Americas uses.
Annual Conservation Measures & Commitments Compliance Report
Individual company compliance reports
About the International Seafood Sustainability Foundation (ISSF)
The International Seafood Sustainability Foundation (ISSF) is a global coalition of scientists, the tuna industry and World Wildlife Fund (WWF) — the world's leading conservation organization — promoting science-based initiatives for the long-term conservation and sustainable use of tuna stocks, reducing bycatch and promoting ecosystem health. To learn more, visit
https://iss-foundation.org/
.