Now in its 69th year, The Tuna Conference in Lake Arrowhead, California, brings together scientists, students, and others concerned with tunas, billfishes and sharks. Since 2011, ISSF has provided support for the event, including travel awards for marine-science students presenting their research.
The theme of this year's conference on May 21-24, held by the Inter-American Tropical Tuna Commission (IATTC), the Southwest Fisheries Science Center and NOAA/NMFS, was "Climate variability and ecosystem considerations in management of large pelagics." The travel award winners' presentations are listed below.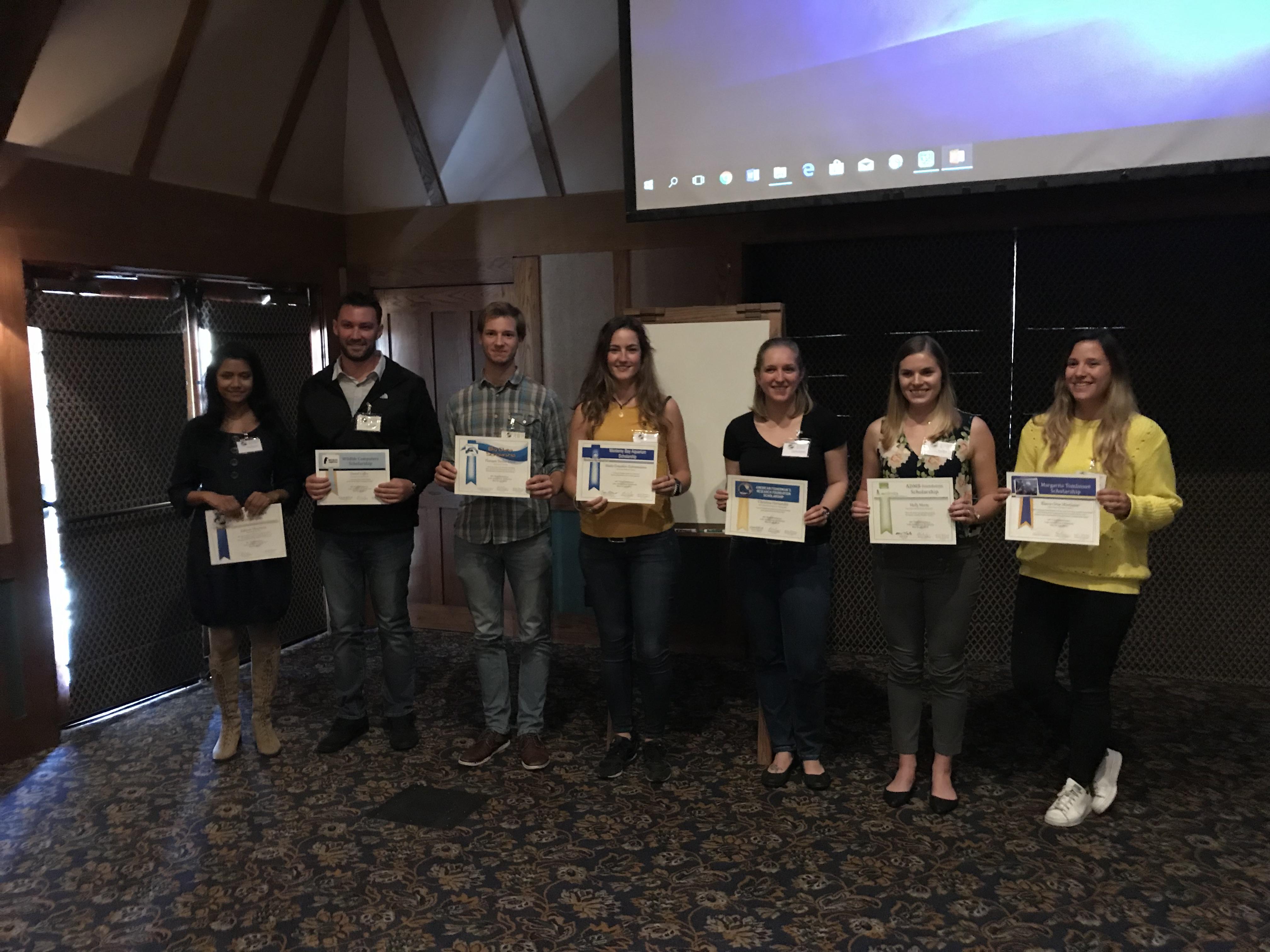 Photo courtesy of Barbara Muhling and The Tuna Conference. Pictured, from left to right: Zahirah Dhurmeea, Danny Coffey, Floriaan Devloo-Delva, Maite Erauskin, Christina Hernandez, Molly Morse, and Blanca Orúe.

2018 Tuna Conference ISSF Travel Award Winners
Wildlife Computers Scholarship
Danny Coffey, University of Hawaii at Manoa
"Assessing blue shark habitat preferences under a changing climate" (with Melanie Hutchison)
Big Data / Manuel Caboz Scholarship
Floriaan Devloo-Delva, University of Tasmania
"How genomics can identify sampling bias, common breeding grounds and sex-determination markers in school sharks" (with Gregory E. Maes, Sebastián I. Hernández, Jaime D. Mcallister, Rasanthi M. Gunasekera, Peter M. Grewe, Robin B. Thomson and Pierre Feutry)
Tuna Conference Scholarship
Zahirah Dhurmeea, University of Mauritius
"Spatial variation in fatty acid trophic markers and stable isotopes in albacore tuna (Thunnus alalunga) in the western Indian ocean" (with Heidi Pethybridge, Chandani Appadoo and Nathalie Bodin)
Monterey Bay Aquarium / Manuel Caboz Scholarship
Maite Erauskin, AZTI
"Climate change impact in past and future distribution of six tuna species" (with Guillem Chust, Haritz Arrizabalaga, Paula Alvarez, Leire Ibaibarriaga, Anna Cabré, Igor Arregui, and Alistair Hobday)
American Fishermen's Research Foundation / Manuel Caboz Scholarship
Christina Hernandez, MIT-WHOI Joint Program in Oceanography
"Larval habitat suitability for Atlantic bluefin tuna spawned in the Slope Sea" (with David Richardson, Irina Rypina, Ke Chen, Larry Pratt, and Joel Llopiz)
ADMB Foundation Scholarship
Molly Morse, University of Massachusetts Dartmouth
"How do stock assessments perform for mixed Atlantic bluefin tuna stocks?" (with Lisa Kerr and Steven Cadrin)
Margarita Tomlinson Memorial Scholarship
Blanca Orúe, University of the Basque Country
"Spatiotemporal distribution of tuna and non-tuna species associated with drifting fish aggregating devices (DFADS) in the Indian ocean, ascertained through fishery-independent data" (with Maria Grazia Pennino, Jon Lopez, Gala Moreno, Josu Santiago, Maria Soto, and Hilario Murua)