Featured Content
ICYMI: Best Practices for FAD Management
Many purse seiners use drifting fish aggregating devices (FADs) in tropical tuna fisheries. Management of the FAD component of these fisheries has been increasingly the focus of Regional Fishery Management Organizations and stakeholders like ISSF.
ISSF and other NGOs have put together lists of the elements that they consider to be most important for effective management of FADs. A recent report expands upon the six elements of management that are of utmost importance:
Complying with flag state and RFMO reporting requirements by set type
Voluntarily reporting additional FAD buoy data for use by RFMO science bodies,
Supporting science-based FAD limits,
Using non-entangling FADs to reduce ghost fishing,
Mitigating other environmental impacts due to FAD loss including through the use of biodegradable FADs and FAD recovery policies,
Implementing further mitigation efforts for silky sharks.
The report offers specific and practical recommendations for each of these six elements, as shown in the report excerpt here.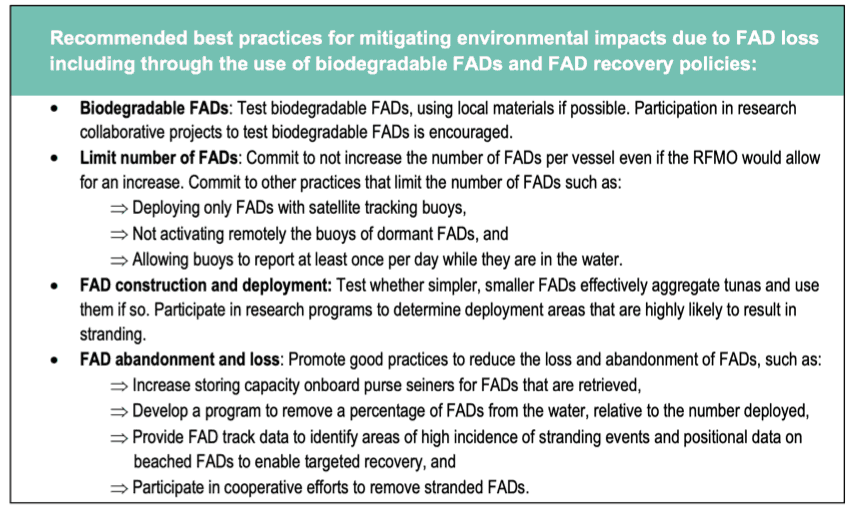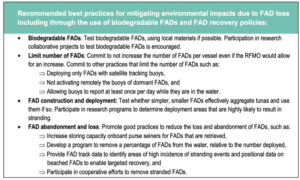 ISSF in the News
Ocean Canning Corporation Teams up with ISSF
Ocean Canning Corporation se adhiere a ISSF
Tuna Facts
35
tuna fisheries worldwide have either been certified by the Marine Stewardship Council (MSC) or are currently undergoing a full assessment to become certified
About the International Seafood Sustainability Foundation (ISSF)
The International Seafood Sustainability Foundation (ISSF) is a global coalition of scientists, the tuna industry and World Wildlife Fund (WWF) — the world's leading conservation organization — promoting science-based initiatives for the long-term conservation and sustainable use of tuna stocks, reducing bycatch and promoting ecosystem health. Helping global tuna fisheries meet sustainability criteria to achieve the Marine Stewardship Council certification standard — without conditions — is ISSF's ultimate objective. In 2019, ISSF celebrated a "Decade of Discovery" as the organization completed its tenth year of scientific research, advocacy and industry engagement. To learn more, visit iss-foundation.org, and follow ISSF on Twitter, Facebook and Instagram.