Featured Content
Extending testing of fish aggregating devices (FADs) using less plastic
The Common Oceans ABNJ Tuna Project has been working closely with ISSF to accelerate the use of biodegradable materials in fish aggregating devices (FADs). This initiative addresses some of the challenges facing tuna fisheries by implementing best practice solutions to reduce the amount of plastic materials used to construct fishing devices, in an effort to achieve sustainable fisheries practices and biodiversity conservation.
Featured Graphics
ISSF is leading research to find the best non-entangling designs and natural materials for fish aggregating devices (FADs) that can biodegrade.
A map shows where large-scale biodegradable FAD deployments are taking place around the world, and a timeline shows ISSF and partner research and other activities in 2009–2019 focused on brainstorming, designing, and testing biodegradable FADs for tuna fishers.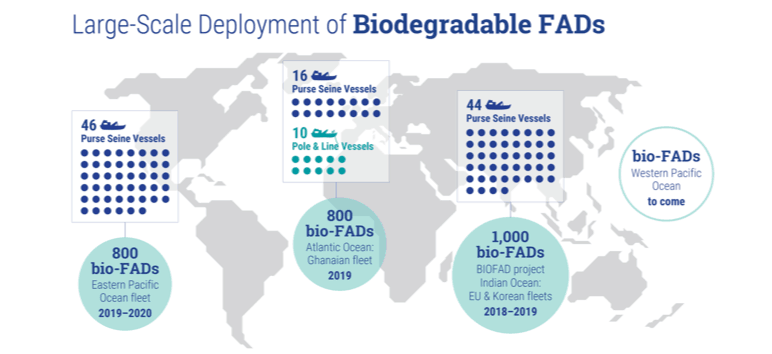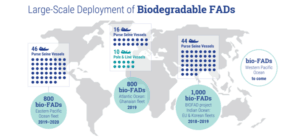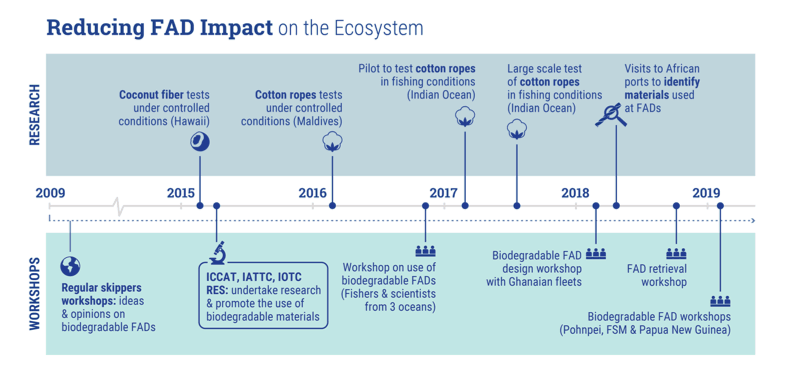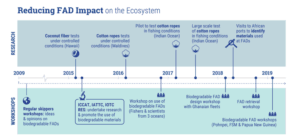 About the International Seafood Sustainability Foundation (ISSF)
The International Seafood Sustainability Foundation (ISSF) is a global coalition of scientists, the tuna industry and World Wildlife Fund (WWF) — the world's leading conservation organization — promoting science-based initiatives for the long-term conservation and sustainable use of tuna stocks, reducing bycatch and promoting ecosystem health. Helping global tuna fisheries meet sustainability criteria to achieve the Marine Stewardship Council certification standard — without conditions — is ISSF's ultimate objective. In 2019, ISSF celebrated a "Decade of Discovery" as the organization completed its tenth year of scientific research, advocacy and industry engagement. To learn more, visit iss-foundation.org, and follow ISSF on Twitter, Facebook and Instagram.