REPORT: Advances in Use of Entanglement-Reducing FADs
Early drifting FAD designs used large-meshed purse seine net in their floating and submerged components. Unintentional entanglement of sharks, primarily silky sharks, and to a lower degree turtles has been observed in this type of drifting FAD.
Since 2005, scientists and tuna purse seiner fishers have been collaborating to design FADs that minimize the likelihood of entanglement, and the acceptance level of entanglement-reducing FADs by fishers and ship-owners has progressed rapidly since 2010. An ISSF technical report describes entanglement-reducing FAD adoption by key fleets, documented through ISSF Skippers Workshops.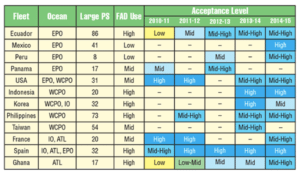 Above: Evolution in the acceptance level of fishers for the use of FADs that minimize entanglement by different tuna fleets in ISSF Skipper Workshops between 2010 and 2015.
Estimated number of large purse seiners (> 335 m3 fish holding volume) by fleet and level of use of FADs.
Non-Entangling FAD Guidelines
The ISSF Guide to Non-Entangling FADs was first published in 2012. The current Guide presents recommendations on FAD designs and materials to consider using for their construction, so as to minimize unwanted by-catch and pollution of the oceans caused by deployments of FADs worldwide in today's purse seine tuna fisheries.
Click here for the ISSF Guide to Non-entangling FADs, available in seven languages