Since its inception, ISSF has adopted conservation measures and commitments to facilitate this mission with the intent that processors, traders, importers, transporters and others involved in the seafood industry will follow them to facilitate real and continuous improvement across global tuna stocks.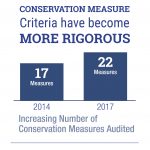 ISSF Participating Companies
commit to conform to these conservation measures to improve the long-term health of tuna fisheries. They also must adhere to the
ISSA Compliance Policy
. Compliance audit reports prepared by auditor MRAG Americas are published for
companies in aggregate
as well as for
individual companies
. Visit our
Audit Process page
to download the MRAG audit policy documents. Download the
conservation measures text
in full as a PDF. Download an
infographic of the conservation measures
.
Conservation Measures