Peruse our original infographics — several of which are based on information in ISSF
technical reports
— on a variety of topics. Search the infographics list by title, date, language, and/or keyword tag(s).
ISSF 2018-16: A Pre-Assessment of the Sustainability of Global Tuna Fisheries Relative to Marine Stewardship Council Criteria: Principle 2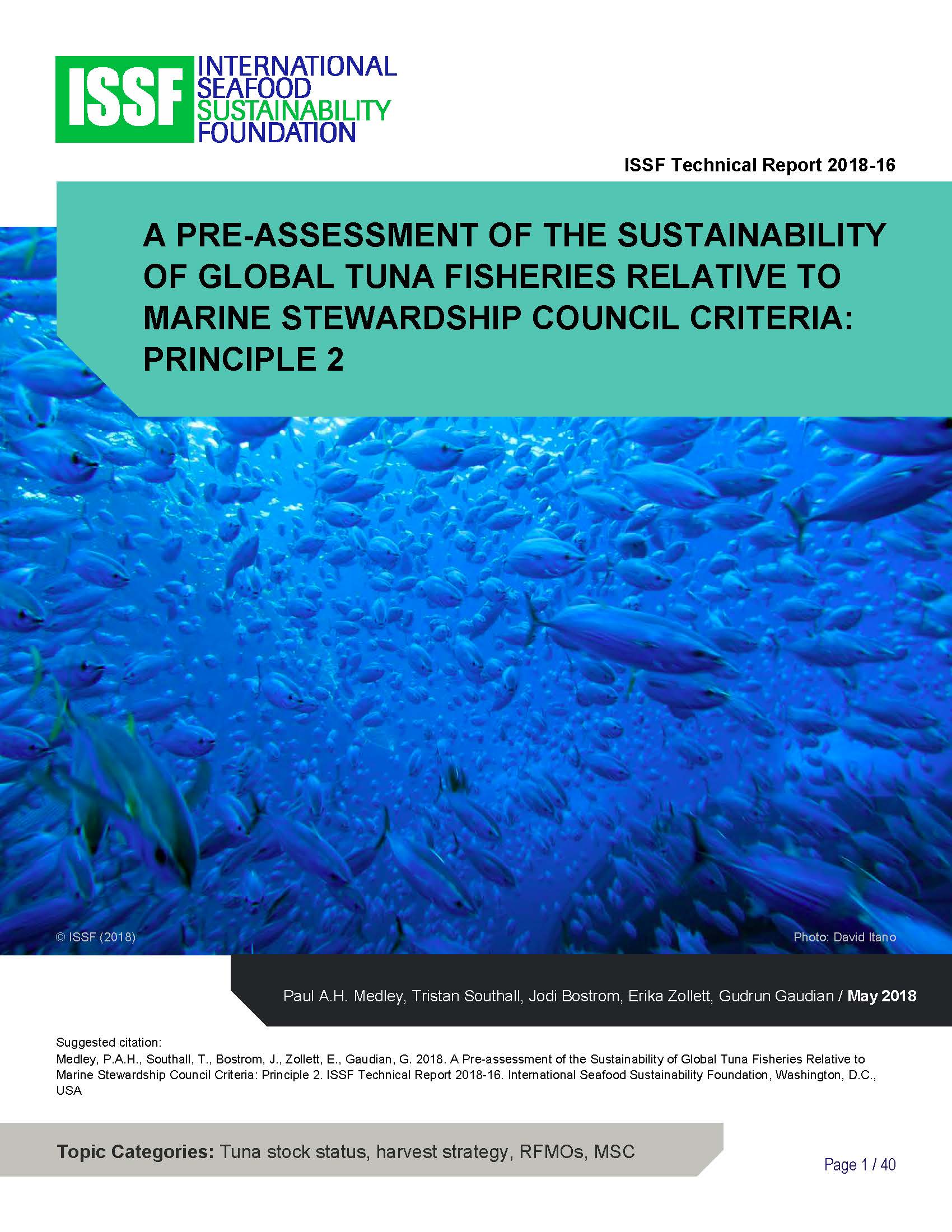 Download
Date Added:
May 22, 2018
Downloaded:
332 times
Tags:
Harvest Strategies, MSC Certification, RFMOs, Stock Assessment, Tuna
Authors:

Bostrom

,

Guadian

,

Medley

,

Southall

,

Zollett

Language:

English

Author(s):
Paul A.H. Medley, Tristan Southall, Jodi Bostrom, Erika Zollett, Gudrun Guadian
report_type:
Technical Report
Description
The Marine Stewardship Council (MSC) has established a program whereby a fishery may be certified as being sustainable. The sustainability of a fishery is defined by MSC criteria which are embodied in three Principles: relating to the status of the stock (P1), the ecosystem of which the stock is a member (P2) and the fishery management system (P3).
This report is focused on Principle 2:
This Principle 2 relates to the performance of the specific fishery relative to all wider ecological impacts.
The approach adopted here uses the MSC definition of a unit of assessment (UoA), which is the combination of the fish stock (biologically distinct unit) with the fishing method (vessel(s) targeting that stock) in a specific area. In total, 166 UoAs have been identified for these pre-assessments.
Download Related Report Materials
Along with this report, we've published a P2 scoring overview summary table, a PSA scores summary table, and 166 UoA individual reports, which you can download on this site.