Peruse our original infographics, several of which are published in ISSF
technical reports
, on a variety of topics — from
bycatch mitigation
,
conservation measures
,
compliance
,
fish aggregating devices (FADs)
,
fisheries improvement projects (FIPs)
,
illegal fishing
, and tuna
stock status
and
harvest control rules
to
ISSF's ProActive Vessel Register
,
Skippers Workshops
, and
strategic plan.
Shark Bycatch In Purse Seine Fisheries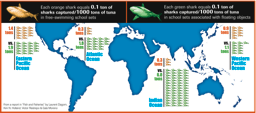 Download
Description
This infographic is based on information reported in the paper "Is it good or bad to fish with FADs? What are the real impacts of the use of drifting FADs on pelagic marine ecosystems?", which was published by Dagorn et al in Fish & Fisheries. It details the bycatch rate of sharks in FAD & free school purse seine fisheries by ocean region.