An asterisk at the end of a report title indicates that earlier versions of the report are available. If you would like to request an older version of a report, write to us at [email protected].
We hope you find our scientific reports valuable, and we appreciate your support of our work. The covers of our reports now include suggested citations to make it easy to cite ISSF reports in your own research.
Many of our reports are resources for fishery improvement projects (FIPs).
2019 CIAT Declaración de Posición | 2019 IATTC Position Statement (Spanish)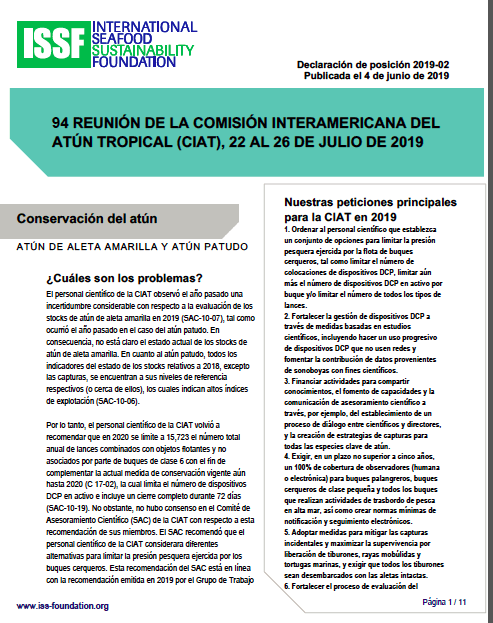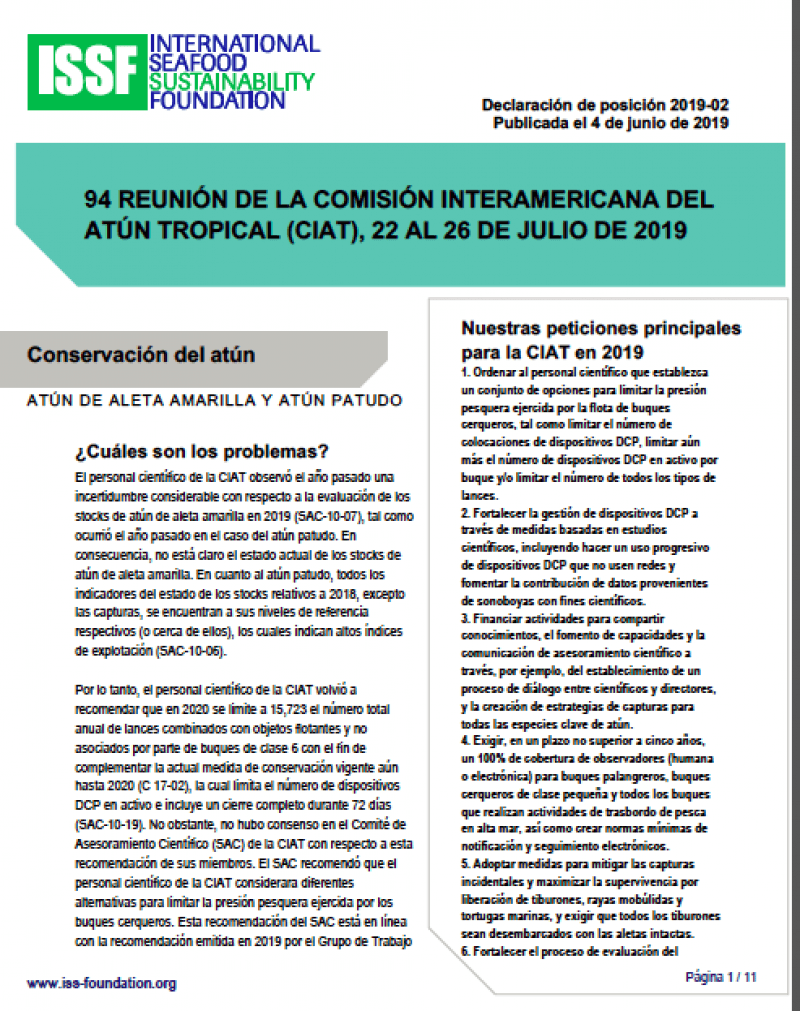 Download
| | |
| --- | --- |
| Date Added: | June 10, 2019 |
| Downloaded: | 57 times |
| RMFOs: | IATTC |
| Tags: | Advocacy, Bycatch, Bycatch Mitigation, Capacity Management, Compliance, FADs, Harvest Strategies, IATTC, RFMOs, Sharks, Tuna |
| Language: | Spanish |
| report_type: | Final |
Description
La ISSF preparó esta declaración de posición para su consideración en la 94 reunión de la Comisión Interamericana del Atún Tropical (CIAT), que tendrá lugar del 22 al 26 de julio de 2019. La declaración abarca temas de estas categorías: conservación del atún; dispositivos de agregación de peces (DCP); estrategias de cosecha; captura incidental y tiburones; monitoreo, control y vigilancia; conformidad; y la gestión de la capacidad.
La declaración también incluye las principales "preguntas" de la ISSF o las solicitudes de la CIAT, junto con una lista de las prioridades globales de la ISSF para todas las OROP.
Una versión en inglés de esta declaración está disponible.