An asterisk at the end of a report title indicates that earlier versions of the report are available. If you would like to request an older version of a report, write to us at [email protected].
We hope you find our scientific reports valuable, and we appreciate your support of our work. The covers of our reports now include suggested citations to make it easy to cite ISSF reports in your own research.
Many of our reports are resources for fishery improvement projects (FIPs).
2019 IOTC Déclaration de Position (French)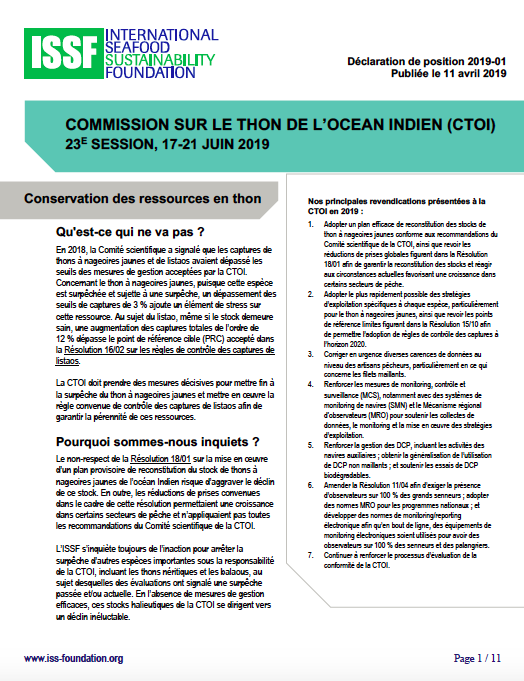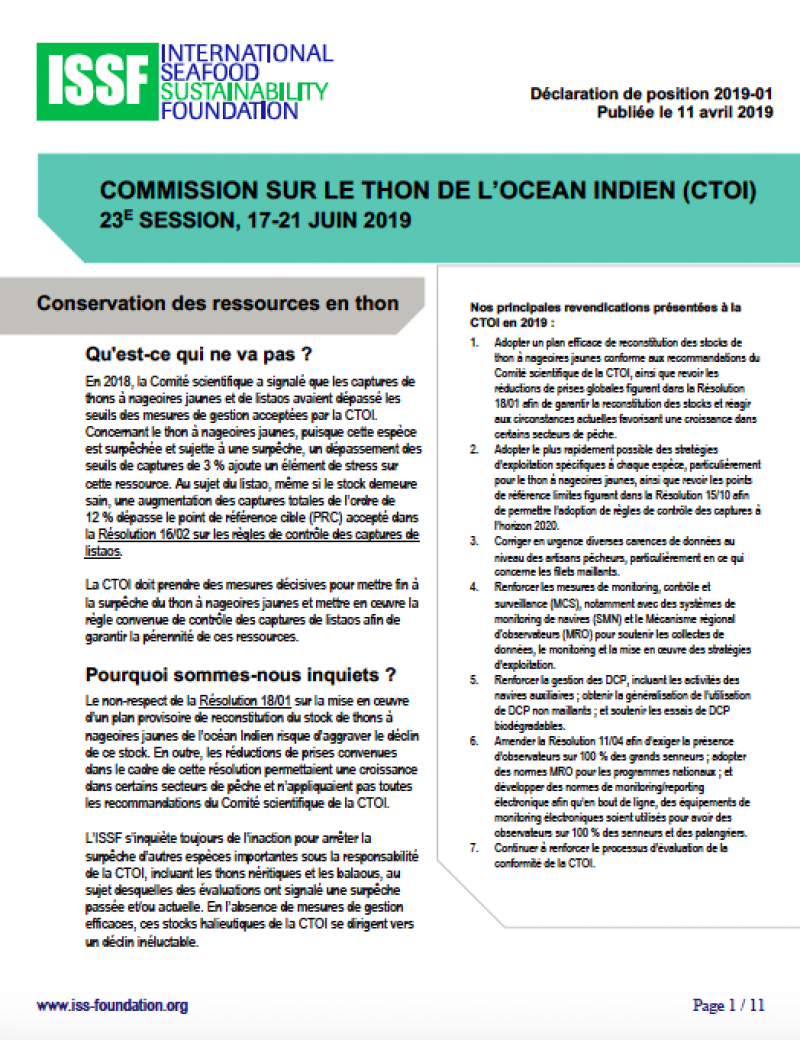 Download
| | |
| --- | --- |
| Date Added: | April 11, 2019 |
| Downloaded: | 47 times |
| RMFOs: | IOTC |
| Tags: | Advocacy, Bycatch, Capacity Management, Compliance, FADs, Gillnet, Harvest Strategies, IMO, IOTC, Longline, MCS, Observer Programs, Sharks, Tuna |
| Language: | French |
| report_type: | Final |
Description
ISSF a préparé cette déclaration de position en mars 2019 pour examen à la 23ème session de la Commission Sur Le Thon De L'océan Indien (CTOI), qui aura lieu du 21 au 27 juin 2019. La déclaration couvre des sujets dans ces catégories:conservation du thon; dispositifs d'agrégation des poissons (DCP); les navires d'approvisionnement et d'appel d'offres; stratégies de récolte; prises accessoires et requins; surveillance, contrôle et surveillance; conformité; et la gestion de la capacité.
La déclaration comprend également les principales «demandes» ou les demandes de la CTOI de l'ISSF, ainsi qu'une liste des priorités globales de l'ISSF pour tous les ORGP.
Une traduction en anglais de cette déclaration est disponible.