An asterisk at the end of a report title indicates that earlier versions of the report are available. If you would like to request an older version of a report, write to us at [email protected].
We hope you find our scientific reports valuable, and we appreciate your support of our work. The covers of our reports now include suggested citations to make it easy to cite ISSF reports in your own research.
Many of our reports are resources for fishery improvement projects (FIPs).
ISSF Participating Company Compliance: Audit Policy Document & Standard Operating Procedures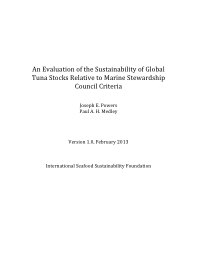 Download
Description
To support tuna stock and tuna ecosystem sustainability, ISSF Participating Companies (PC) have agreed to meet a number conservation measures and commitments designed to improve the long-term health of tuna fisheries.
This document describes the protocol for the auditing of PC compliance with those conservation measures and commitments in effect for 2014.
PCs are obliged to respond fully, accurately and in a timely manner to all reasonable requests made in the course of the reviews. PCs must provide appropriate supporting documents, data or other support. Appropriate confidentiality obligations will be established and observed by ISSF staff and the consultant(s). MRAG will provide a report on each company's participation and cooperation in the audit process.
In addition to the standard audits, MRAG will also follow up in 2015 with PCs that do not demonstrate full compliance with the ISSF conservation measures and commitments for 2014.