An asterisk at the end of a report title indicates that earlier versions of the report are available. If you would like to request an older version of a report, write to us at [email protected].
We hope you find our scientific reports valuable, and we appreciate your support of our work. The covers of our reports now include suggested citations to make it easy to cite ISSF reports in your own research.
Many of our reports are resources for fishery improvement projects (FIPs).
ISSF 2014-12: Exploration of Market Viability for the Full Retention of Non-Tuna Species in Purse Seine Fisheries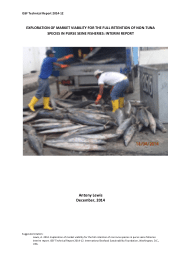 Download
| | |
| --- | --- |
| Date Added: | December 9, 2014 |
| Downloaded: | 193 times |
| Tags: | Bycatch, Purse Seine, Tuna |
| Authors: | Lewis |
| Language: | English |
| Author(s): | Antony Lewis |
| report_type: | Technical Report |
Description
This is the report of the first Phase of a study contracted by ISSF on tropical tuna purse seine fisheries to (1) review bycatch levels, (2) review available information on current retention policies by RFMOs (and companies, if applicable), (3) visit major landings sites/ports to profile landings, processing capability, market demand and existing artisanal fisheries, and (4) identify a minimum of two pilot projects to test market viability.