An asterisk at the end of a report title indicates that earlier versions of the report are available. If you would like to request an older report, write to us at info@iss-foundation.org.
We hope you find our scientific reports valuable, and we appreciate your support of our work. The covers of our reports now include suggested citations to make it easy to cite ISSF reports in your own research.
Many of our reports are resources for fishery improvement projects (FIPs).
ISSF 2012-16: Third Meeting of the Scientific Committee of the Bycatch Mitigation Project. Montpellier, Oct 2012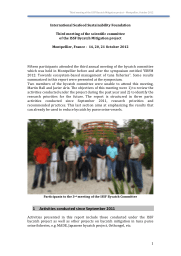 Download
| | |
| --- | --- |
| Date Added: | October 21, 2012 |
| Downloaded: | 149 times |
| Tags: | Bycatch Mitigation |
| Language: | English |
| Author(s): | ISSF |
Description
The objectives of this meeting were 1) to review the activities conducted under the project during the past year and 2) to identify research priorities for the future.
The report is structured in three parts: activities conducted since September 2011, research priorities and recommended practices.