These "snapshots" identify best practices for sustainable tuna fishing. In detailed tables, they also compare tuna Regional Fisheries Management Organization (RFMO) progress in implementing them.
Read our companion "best-practices" technical reports on these topics.
ISSF 2018-03: Efficiency of Electronic Monitoring on FAD-Related Activities by Supply Vessels in the Indian Ocean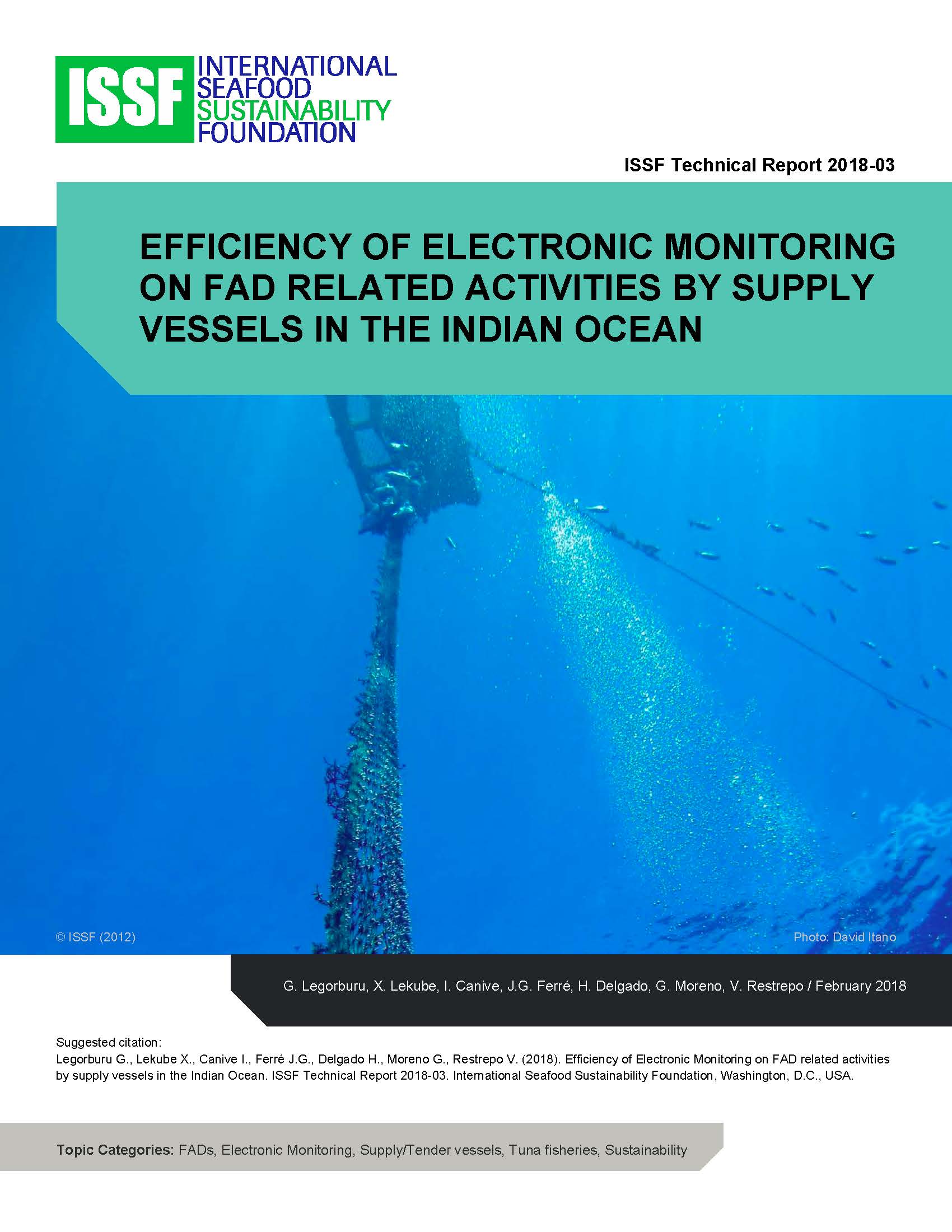 Download
Date Added:
February 22, 2018
Downloaded:
258 times
Tags:
Electronic Monitoring & Reporting, FADs, Moreno, Purse Seine, Restrepo
Authors:

Canive

,

Delgado

,

Ferré

,

G. Legorburu

,

Lekube

,

Moreno

,

Restrepo

Language:

English

Author(s):
G. Legorburu, X. Lekube, I. Canive, J.G. Ferré, H. Delgado, G. Moreno, V. Restrepo
report_type:
Technical Report
Description
Electronic Monitoring (EM) has been shown as an effective monitoring tool for fisheries management. This study tests the potential use of EM to monitor Fish Aggregating Devices (FADs) used by supply vessels in a tropical tuna purse seine fishing fleet.
The study was conducted on 5 supply vessels operating in the Indian Ocean equipped with EM systems during eight trips accounting for 371 days at sea. The resulting footage was analysed by observers on land. FAD-related activities recorded by the EM were compared to those recorded in the vessels' logbooks.
The results show a high level of coincidence between both methods. The observed capability of EM in detecting and describing FAD components and activities suggests that it can become a key method for collecting FAD data onboard supply vessels in support of fisheries management