These "snapshots" identify best practices for sustainable tuna fishing. In detailed tables, they also compare tuna Regional Fisheries Management Organization (RFMO) progress in implementing them.
Read our companion "best-practices" technical reports on these topics.
ISSF 2020-11: Recommended Best Practices for Tropical Tuna Purse Seine Fisheries in Transition to MSC Certification, with an Emphasis on FADs*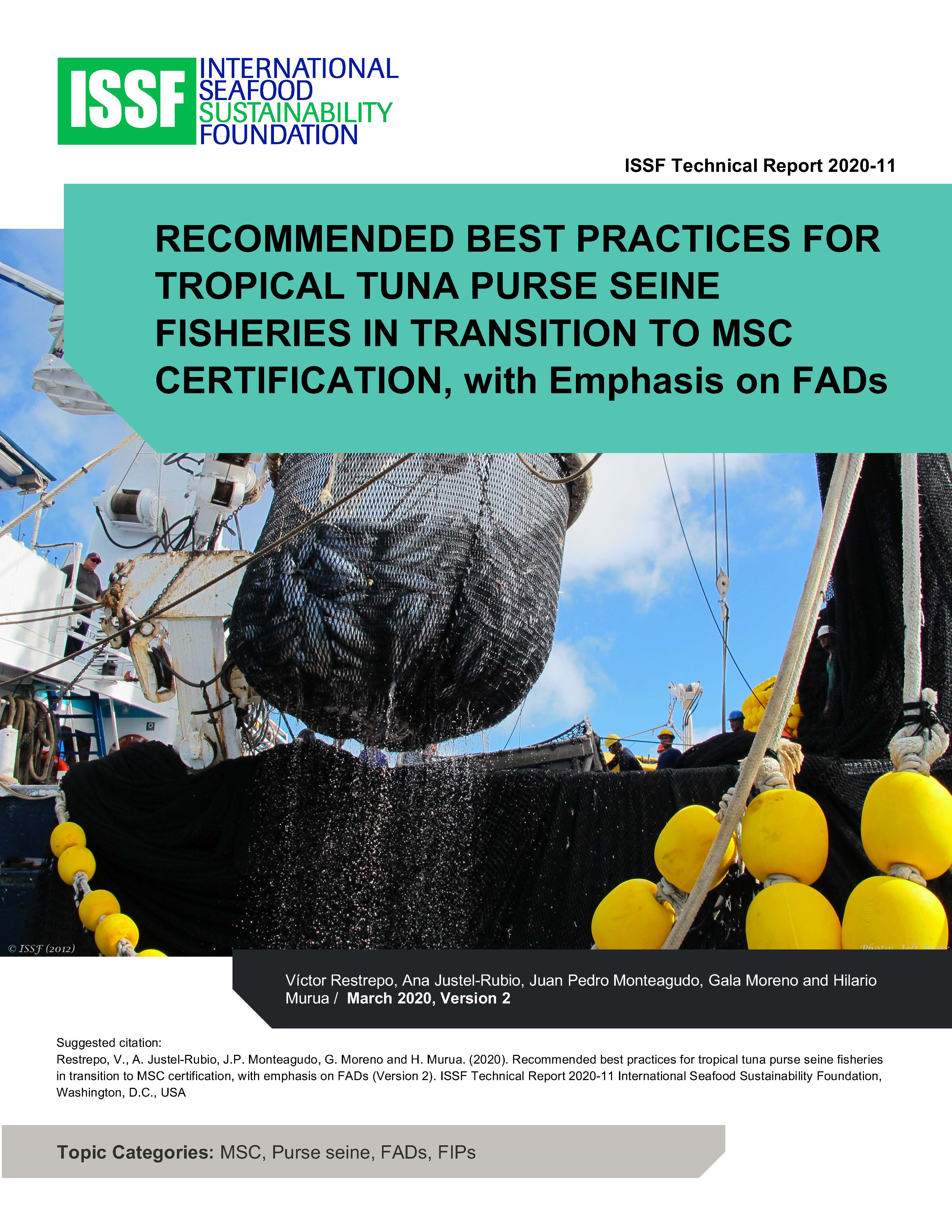 Download
Date Added:
March 16, 2020
Downloaded:
179 times
Tags:
Best Practices, FADs, Fisheries Improvement Projects, Hilario Murua, Justel-Rubio, Monteagudo, Moreno, MSC Certification, Purse Seine, Restrepo, Tuna
Authors:

Ana Justel-Rubio

,

Dr. Gala Moreno

,

Dr. Victor Restrepo

,

Hilario Murua

,

Juan Pedro Monteagudo

Language:

English

report_type:
Technical Report
Description
This report summarizes recommended best practices for tropical tuna purse seine fisheries with a FAD component (i.e., with a portion of its sets on schools of tuna associated with fish aggregating devices) that aim to participate in Fishery Improvement Programs (FIPs) with the objective of achieving MSC certification.
The recommended practices are linked to MSC Fishery Certification Requirements with suggested examples for concrete actions.
Dr. Victor Restrepo, Ana Justel-Rubio, Juan Pedro Monteagudo, Dr. Gala Moreno, and Dr. Hilario Murua authored the report.
See also our related "Purse Seine FIPs Best Practices Checklist" document.