For long-term tuna sustainability, a growing number of tuna companies worldwide are choosing to partner with ISSF, follow responsible fishing practices, and implement science-based conservation measures.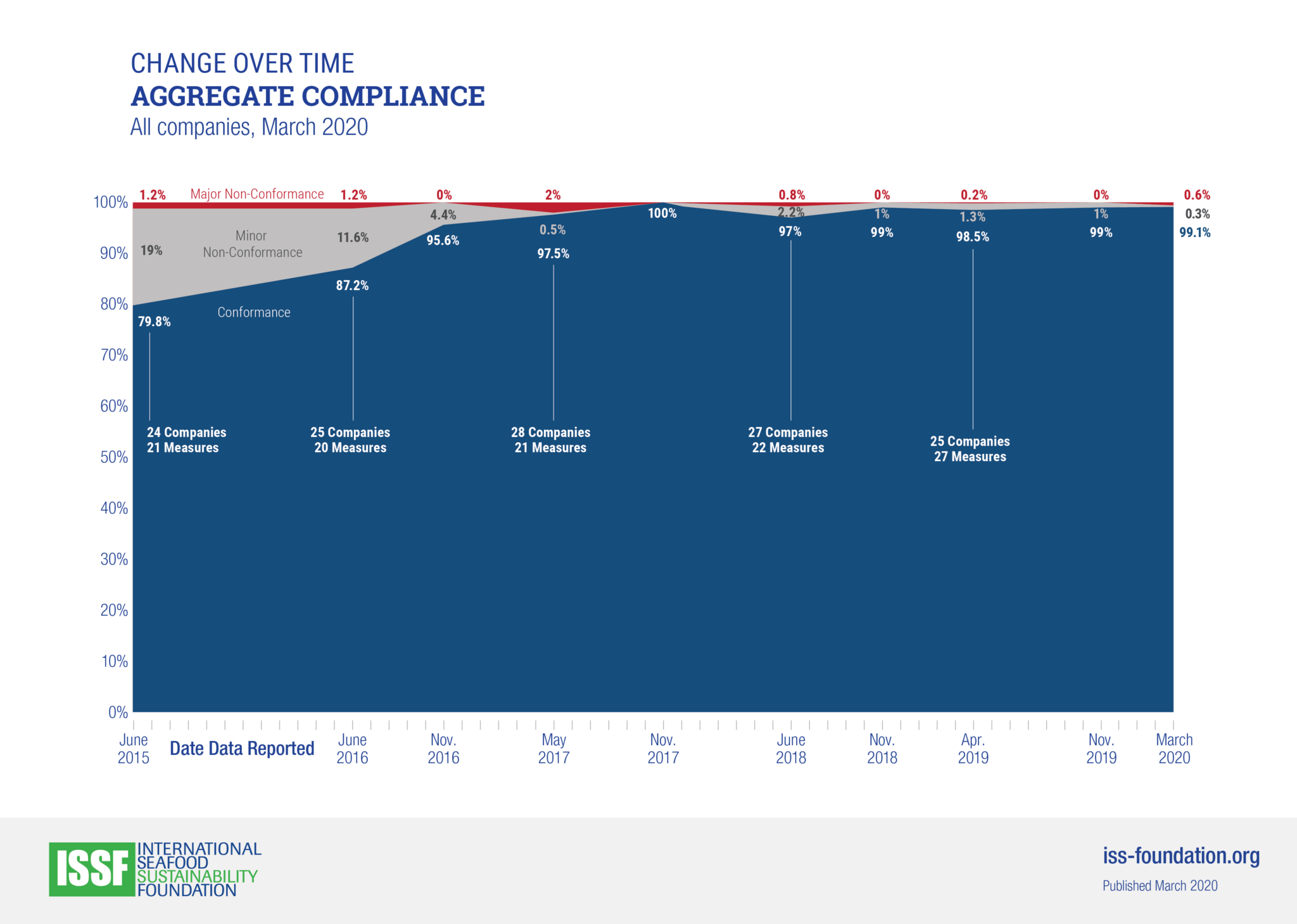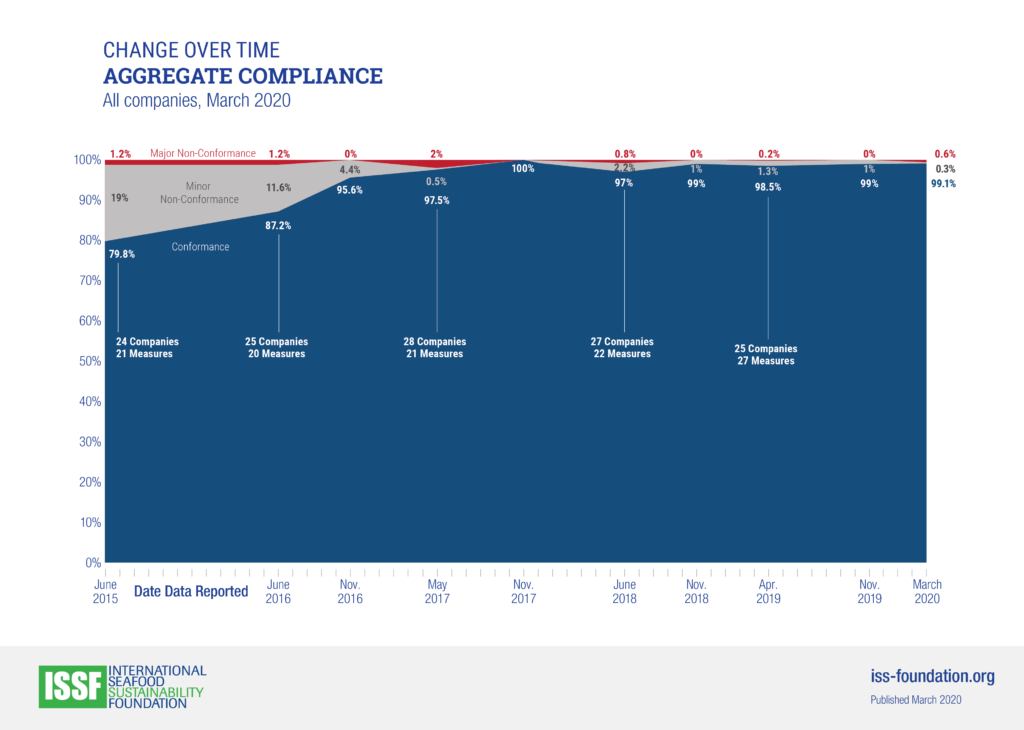 As part of its commitment to transparency and accountability, ISSF engages a third-party auditor, MRAG Americas, to audit ISSF participating companies annually — assessing their compliance with ISSF's Conservation Measures and Commitments. Visit our Audit Process page to download the MRAG audit policy documents for the current year, previous year, and next year.
The most recent MRAG compliance reports for each ISSF participating company appear here. Under the ISSA Compliance Policy, companies may be required to remediate non-conformances found during the annual audit, and MRAG will issue reports for those companies that do so. Those remediation reports, which have "Update of Compliance Status" in their titles below, appear alongside the companies' final annual reports.
ISSF also publishes an Annual Conservation Measures & Commitments Compliance Report, and an update to that report, which tracks all companies' compliance with each conservation measure. They show the level of conformance as well as compliance improvements over time. Download the most recent compliance report: April 2020 (annual). We also publish audit reports for ISSF Data Check Companies.
2019 ICCAT Declaración de Posición | 2019 ICCAT Position Statement (Spanish)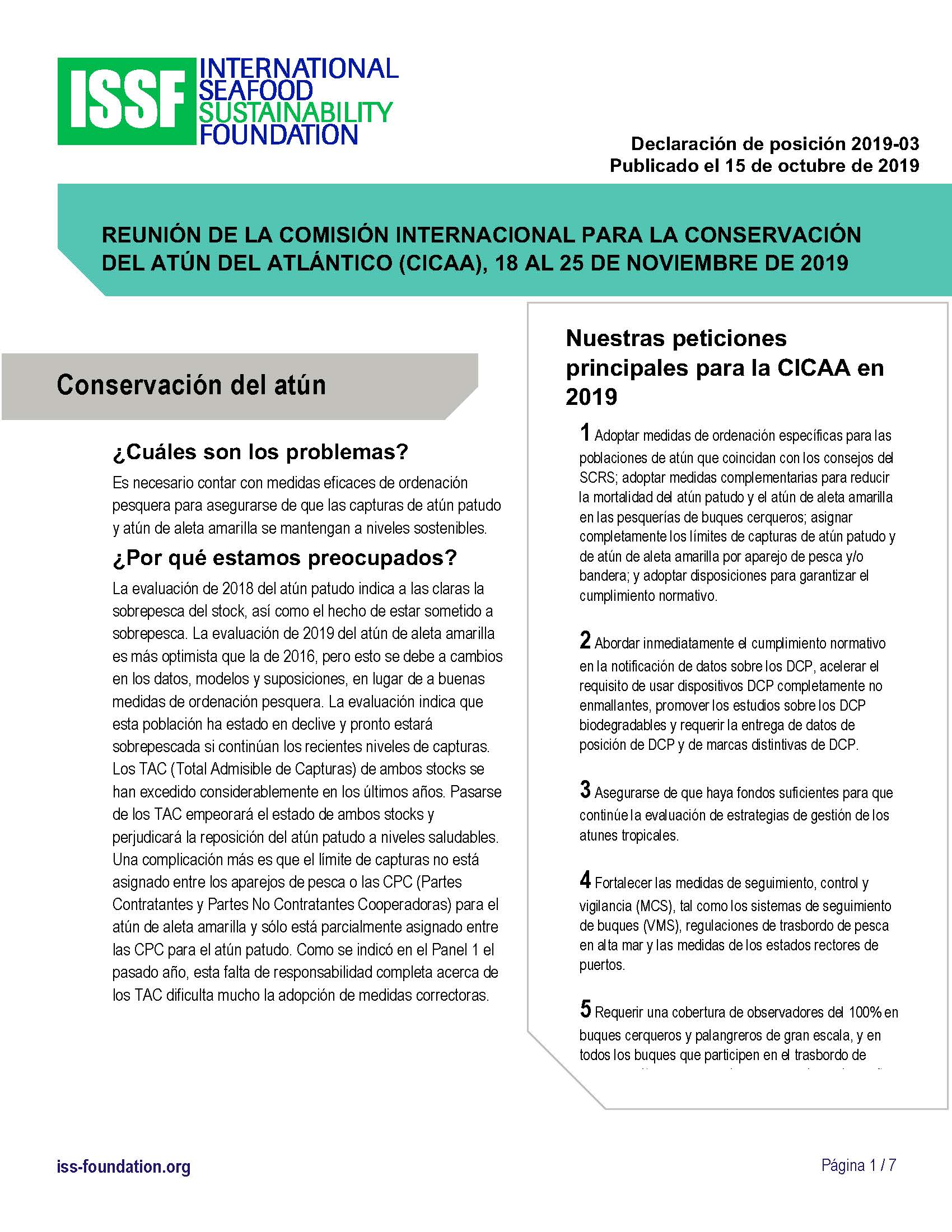 Download
Description
La ISSF preparó esta declaración de posición para su consideración en la reunión de la Comisión Internacional para la Conservación del Atún Atlántico (ICCAT) del 18 al 25 de noviembre de 2019. La declaración cubre temas en estas categorías: conservación de atún; dispositivos de concentradores de peces (DCP); estrategias sobre capturas; capturas incidentales y tiburones; seguimiento, control y vigilancia; y cumplimiento normativo.
La declaración también incluye las principales "peticiones" de ISSF o solicitudes de ICCAT, junto con una lista de las prioridades globales de ISSF para todas las OROP.
La declaración de posición también está disponible en inglés y francés.