For long-term tuna sustainability, a growing number of tuna companies worldwide are choosing to partner with ISSF, follow responsible fishing practices, and implement science-based conservation measures.
As part of its commitment to transparency and accountability, ISSF engages a third-party auditor, MRAG Americas, to audit ISSF participating companies annually — assessing their compliance with ISSF's Conservation Measures and Commitments. Visit our Audit Process page to download the MRAG audit policy documents for the current year, previous year, and next year.
The most recent MRAG compliance reports for each ISSF participating company appear here. Under the ISSA Compliance Policy, companies may be required to remediate non-conformances found during the annual audit, and MRAG will issue reports for those companies that do so. Those remediation reports, which have "Update of Compliance Status" in their titles below, appear alongside the companies' final annual reports.
ISSF also publishes an Annual Conservation Measures & Commitments Compliance Report, and an update to that report, which tracks all companies' compliance with each conservation measure. They show the level of conformance as well as compliance improvements over time. Download the most recent compliance report: November 2019 (update).
ISSF 2016-19: An Evaluation of the Sustainability of Global Tuna Stocks Relative to Marine Stewardship Council Criteria*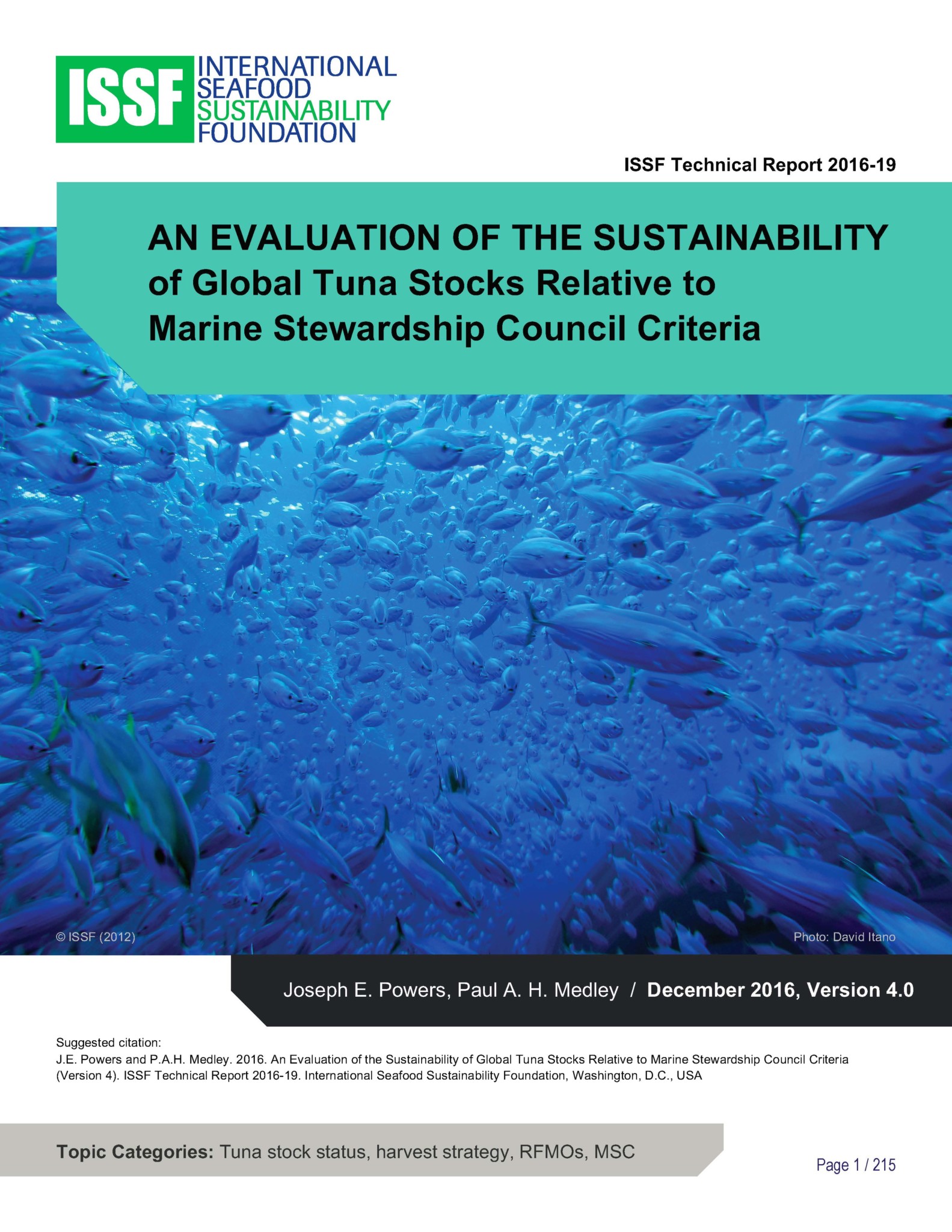 Download
Date Added:
January 23, 2017
Downloaded:
620 times
Tags:
Albacore Tuna, Bigeye Tuna, IATTC, ICCAT, IOTC, MSC Certification, RFMOs, science, Skipjack, Stock Status, Tuna, WCPFC, Yellowfin Tuna
Authors:

Medley

,

Powers

Language:

English

Author(s):
Joseph E. Powers & Paul A.H. Medley
report_type:
Technical Report
Description
"An Evaluation of the Sustainability of Global Tuna Stocks Relative to Marine Stewardship Council Criteria" takes a global, comprehensive approach to scoring stocks against certain components of the Marine Stewardship Council (MSC) standard. The report is authored by experienced MSC assessors Joseph E. Powers and Paul A. H. Medley and has been updated twice since it was first published in 2013. It is designed to:
Provide a basis for comparing between stock scores as assessed by the same experts
Become a useful source document for future tuna certifications or in the establishment of tuna Fishery Improvement Projects (FIPs)
Offer a "snapshot" of the current status of the stocks, as well as the strengths and weaknesses of RFMOs
Prioritize ISSF projects and advocacy efforts against initiatives that will improve low performance indicator scores
The scores in this report focus on stock status (MSC Principle 1) and the international management aspects relevant to RFMOs (part of MSC Principle 3) and are based on publicly available fishery and RFMO data. Each of these Principles is evaluated in relationship to Performance Indicators (PIs) within each Principle.