For long-term tuna sustainability, a growing number of tuna companies worldwide are choosing to partner with ISSF, follow responsible fishing practices, and implement science-based conservation measures.
As part of its commitment to transparency and accountability, ISSF engages a third-party auditor, MRAG Americas, to audit ISSF participating companies annually — assessing their compliance with ISSF's Conservation Measures and Commitments. Visit our Audit Process page to download the MRAG audit policy documents for the current year, previous year, and next year.
The most recent MRAG compliance reports for each ISSF participating company appear here. Under the ISSA Compliance Policy, companies may be required to remediate non-conformances found during the annual audit, and MRAG will issue reports for those companies that do so. Those remediation reports, which have "Update of Compliance Status" in their titles below, appear alongside the companies' final annual reports.
ISSF also publishes an Annual Conservation Measures & Commitments Compliance Report, and an update to that report, which tracks all companies' compliance with each conservation measure. They show the level of conformance as well as compliance improvements over time. Download the most recent compliance report: November 2019 (update).
ISSF 2019-02: An Evaluation of the Sustainability of Global Tuna Stocks Relative to Marine Stewardship Council Criteria*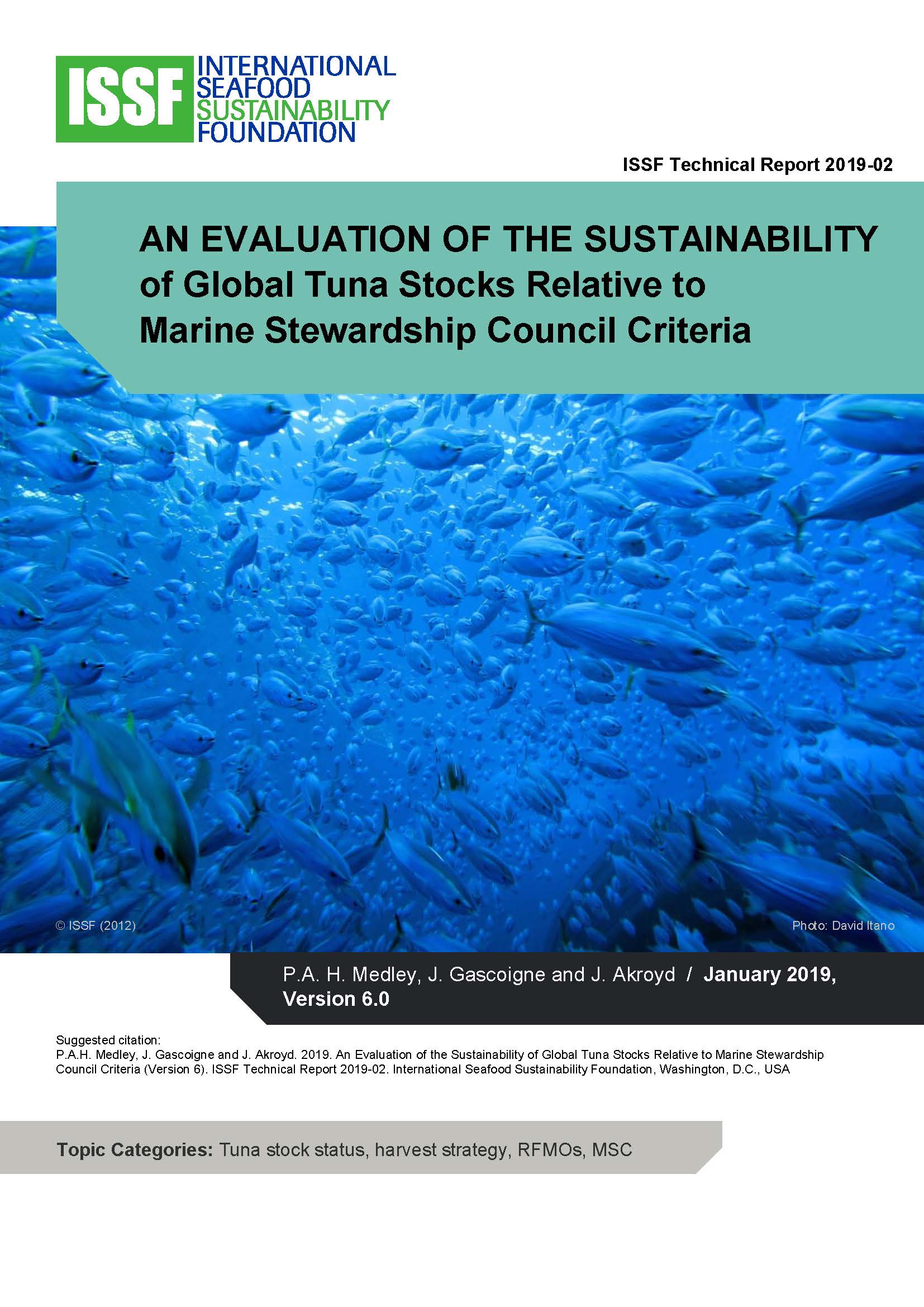 Download
Date Added:
January 9, 2019
Downloaded:
442 times
Tags:
Albacore Tuna, Bigeye Tuna, Harvest Strategies, IATTC, ICCAT, IOTC, MSC Certification, RFMOs, science, Skipjack, Stock Status, Tuna, WCPFC, Yellowfin Tuna
Authors:

Akroyd

,

Gascoigne

,

Medley

Language:

English

report_type:
Technical Report
Description
The Marine Stewardship Council (MSC) has established a program whereby a fishery may be certified as being sustainable. The sustainability of a fishery is defined by MSC criteria embodied in three Principles: relating to the status of the stock (Principle 1), the ecosystem of which the stock is a member (Principle 2), and the fishery management system (Principle 3).
Since many of these MSC criteria are comparable for global tuna stocks, the MSC scoring system was used to evaluate 19 stocks of tropical and temperate tunas throughout the world (based on Principle 1) and also to evaluate the management systems of the Regional Fisheries Management Organizations (RFMOs) associated with these stocks (based on Principle 3).
This January 2019 report with P1 and P3 scores, "An Evaluation of the Sustainability of Global Tuna Stocks Relative to Marine Stewardship Council Criteria," is authored by P. A. H. Medley, J. Gascoigne, and J. Akroyd. It does not evaluate fishery-specific ecosystem criteria (P2).