For long-term tuna sustainability, a growing number of tuna companies worldwide are choosing to partner with ISSF, follow responsible fishing practices, and implement science-based conservation measures.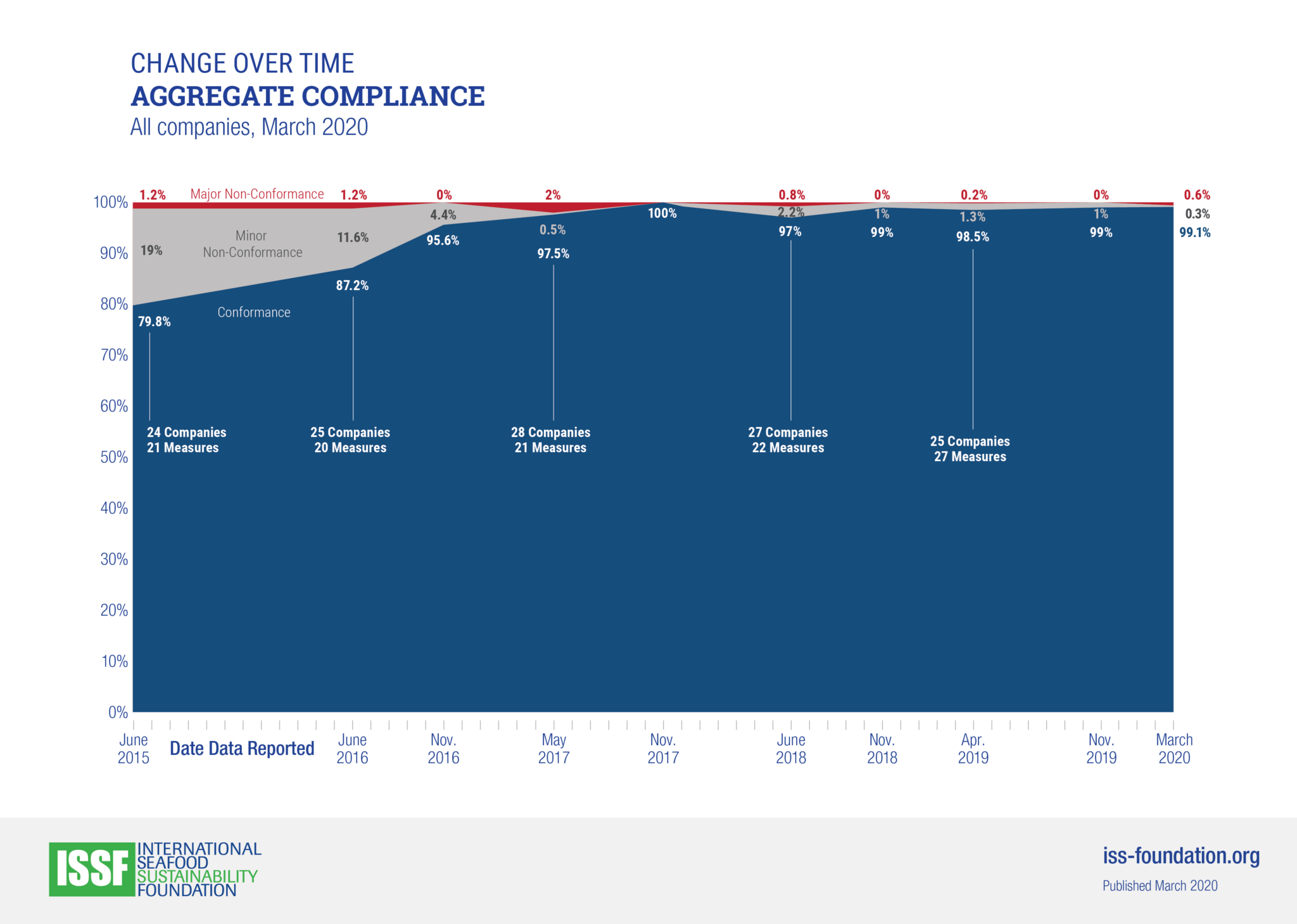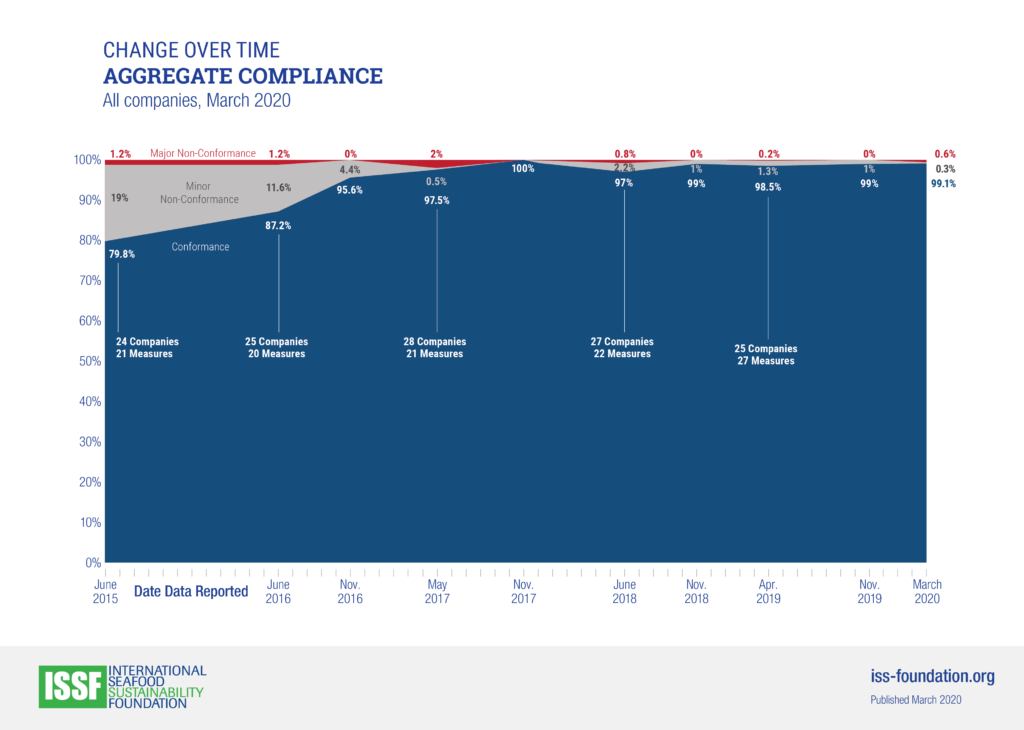 As part of its commitment to transparency and accountability, ISSF engages a third-party auditor, MRAG Americas, to audit ISSF participating companies annually — assessing their compliance with ISSF's Conservation Measures and Commitments. Visit our Audit Process page to download the MRAG audit policy documents for the current year, previous year, and next year.
The most recent MRAG compliance reports for each ISSF participating company appear here. Under the ISSA Compliance Policy, companies may be required to remediate non-conformances found during the annual audit, and MRAG will issue reports for those companies that do so. Those remediation reports, which have "Update of Compliance Status" in their titles below, appear alongside the companies' final annual reports.
ISSF also publishes an Annual Conservation Measures & Commitments Compliance Report, and an update to that report, which tracks all companies' compliance with each conservation measure. They show the level of conformance as well as compliance improvements over time. Download the most recent compliance report: April 2020 (annual). We also publish audit reports for ISSF Data Check Companies.
ISSF 2019-08: Report of the International Workshop on Mitigating Environmental Impacts of Tropical Tuna Purse Seine Fisheries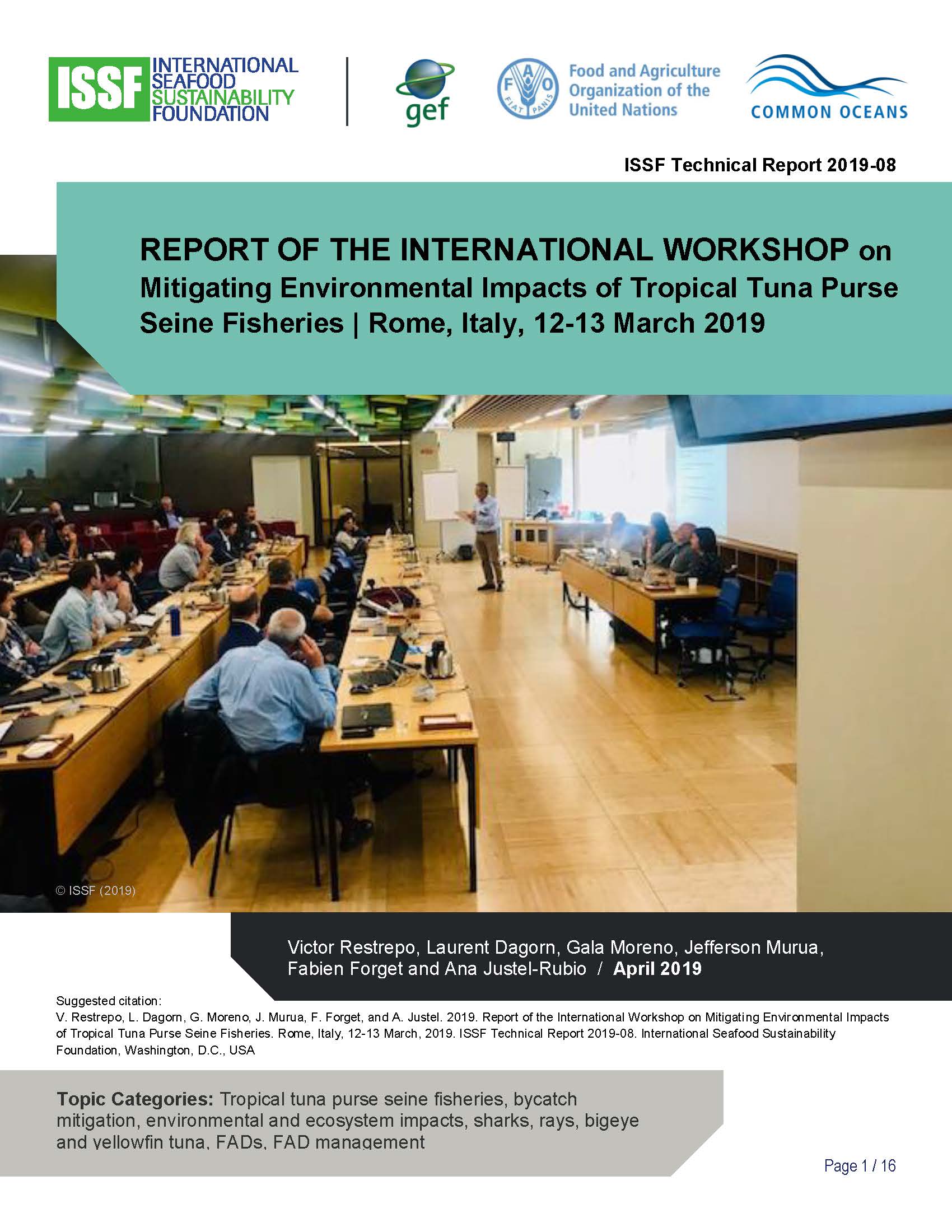 Download
Date Added:
April 24, 2019
Downloaded:
331 times
Tags:
Bigeye Tuna, Bycatch, Bycatch Mitigation, Dagorn, Ecosystem, FADs, Jefferson Murua, Justel-Rubio, Moreno, Purse Seine, Rays, Restrepo, science, Sharks, Tuna, Yellowfin Tuna
Authors:

Dagorn

,

J. Murua

,

Justel-Rubio

,

Moreno

,

Restrepo

Language:

English

activity_year:
2019
report_type:
Workshop Report
Description
This is the report of a workshop held to review ISSF research and advocacy activities on mitigating environmental impacts of tropical tuna purse seine fisheries, with emphasis on bycatch and FADs.
Workshop participants included scientists, NGOs, tuna RFMOs, manufacturers, and purse seine fishing companies.
The workshop on March 12-13, 2019, in Rome was co-sponsored by the Common Oceans ABNJ Tuna Project and focused on six sessions: (1) Bycatch of the tuna purse seine fishery, (2) sharks and rays, (3) small bigeye and yellowfin tuna, (4) FAD structure impacts, (5) FAD management, and, (6) looking ahead: the next 10 years. Presentations for each of these topics were made, followed by discussions.
This report summarizes the main points made during presentations and discussions.
Download a companion PDF of all slide presentations from the workshop.