For long-term tuna sustainability, a growing number of tuna companies worldwide are choosing to partner with ISSF, follow responsible fishing practices, and implement science-based conservation measures.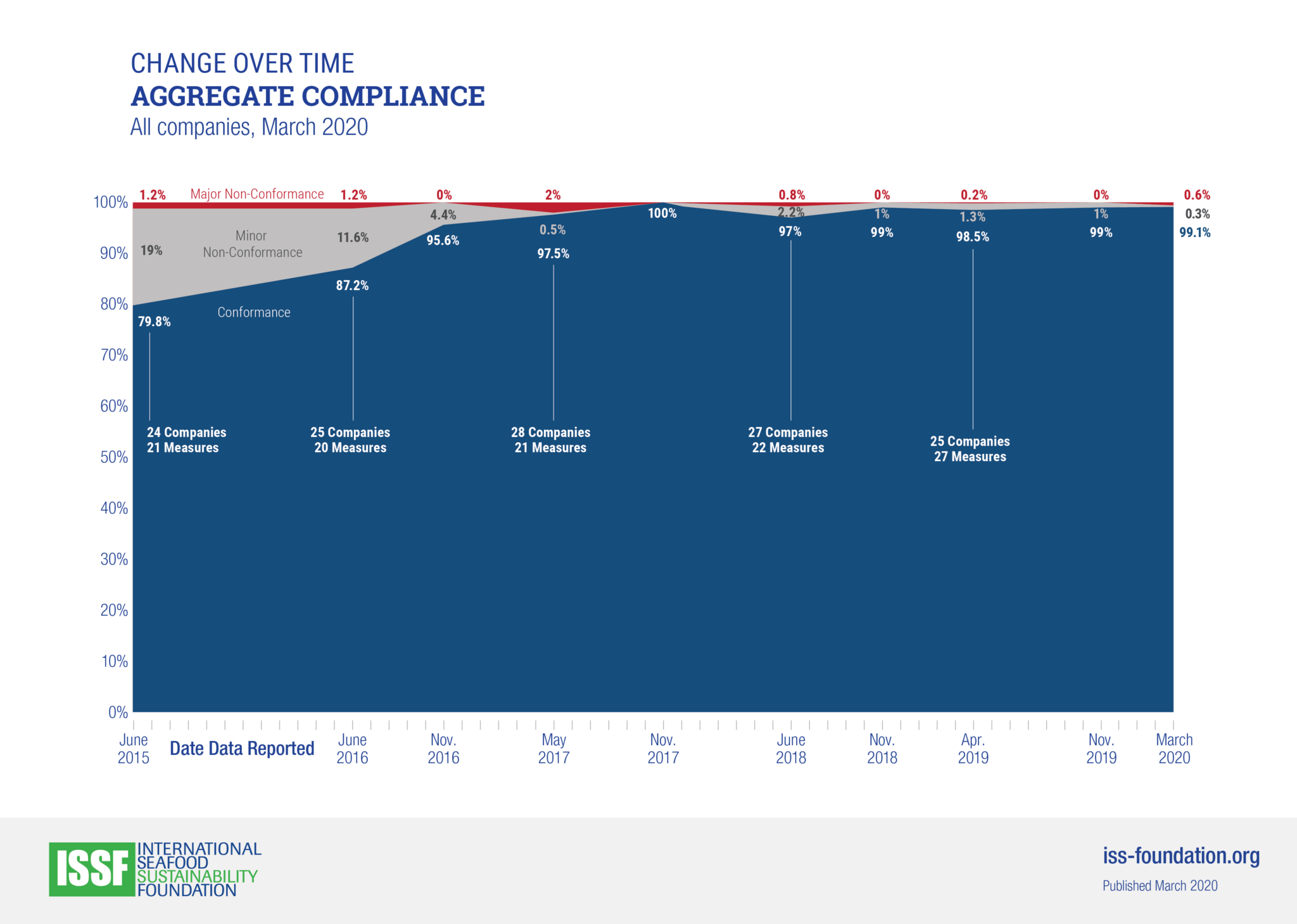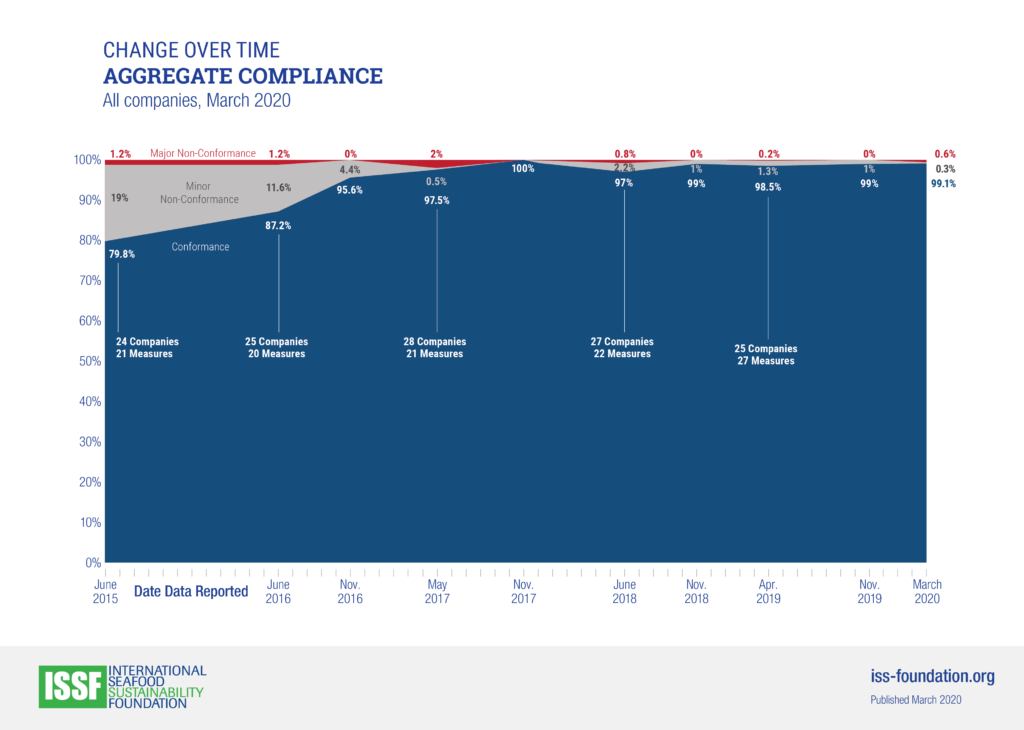 As part of its commitment to transparency and accountability, ISSF engages a third-party auditor, MRAG Americas, to audit ISSF participating companies annually — assessing their compliance with ISSF's Conservation Measures and Commitments. Visit our Audit Process page to download the MRAG audit policy documents for the current year, previous year, and next year.
The most recent MRAG compliance reports for each ISSF participating company appear here. Under the ISSA Compliance Policy, companies may be required to remediate non-conformances found during the annual audit, and MRAG will issue reports for those companies that do so. Those remediation reports, which have "Update of Compliance Status" in their titles below, appear alongside the companies' final annual reports.
ISSF also publishes an Annual Conservation Measures & Commitments Compliance Report, and an update to that report, which tracks all companies' compliance with each conservation measure. They show the level of conformance as well as compliance improvements over time. Download the most recent compliance report: April 2020 (annual). We also publish audit reports for ISSF Data Check Companies.
ISSF 2013-09: Sustainable Fishery Agreements: Strategies for Enforcement & Compliance. Maui Conferences, Jan 2013
Download
| | |
| --- | --- |
| Date Added: | January 25, 2013 |
| Downloaded: | 801 times |
| Tags: | Capacity Management, Compliance, RFMOs |
| Authors: | ISSF |
| Language: | English |
| Author(s): | ISSF |
| report_type: | Technical Report |
Description
The 2011 Bellagio Conference on Sustainable Tuna Fisheries recognized that the time is ripe to address the problems of overcapacity and over exploitation; without action the present situation with respect to tuna stocks will steadily deteriorate. The resulting Bellagio Framework for Sustainable Tuna Fisheries highlighted rights-based management as an effective way to address concerns about overcapacity, over exploitation, and conservation, and to create sustainable economic and social benefits, and employment.
Subsequently, the Cordoba Conference on the Allocation of Property Rights in Global Tuna Fisheries concluded that an effective allocation framework is fundamental to the implementation of rights-based management. The Cordoba Conference provided a number of considerations that should be taken into account in the allocation of rights, including the need to consider compliance and enforcement as necessary components of an allocation agreement.
This Conference on Sustainable Fishery Agreements: Strategies for Enforcement and Compliance (Maui, Hawaii, USA) brought together a distinguished group of negotiators, scholars, and representatives of Regional Fishery Management Organizations (RFMOs), industry, environmental non-governmental organizations, and other international institutions. The conference provided an opportunity for the participants to engage in debate and discussion in a collaborative and neutral venue on the issues of compliance and enforcement1 in the context of rights-based management in multi-lateral tuna fisheries. The participants took part in their personal capacity and are listed in Annex 1.
Recognizing the complexity and diversity of management of tuna stocks by all tuna RFMOs, and the need for human and institutional capacity at all levels in the system, this report identifies a number of actions that should be considered when maximum compliance is desired through rational management arrangements supported by effective enforcement. The report covers the range of ideas presented at the conference but does not necessarily represent a consensus on all issues.